Vancouver, BC - Cypress Development Corp. (TSX-V: CYP) (OTC Pink: CYDVF) (Frankfurt: C1Z1) ("Cypress" or the "Company") is pleased to announce the Company has acquired a 100% interest in the 1,780 acre Alkali Valley lithium brine project located in Esmeralda county, Nevada.

Cypress Alkali Valley Lithium Brine Project Location Map, Nevada: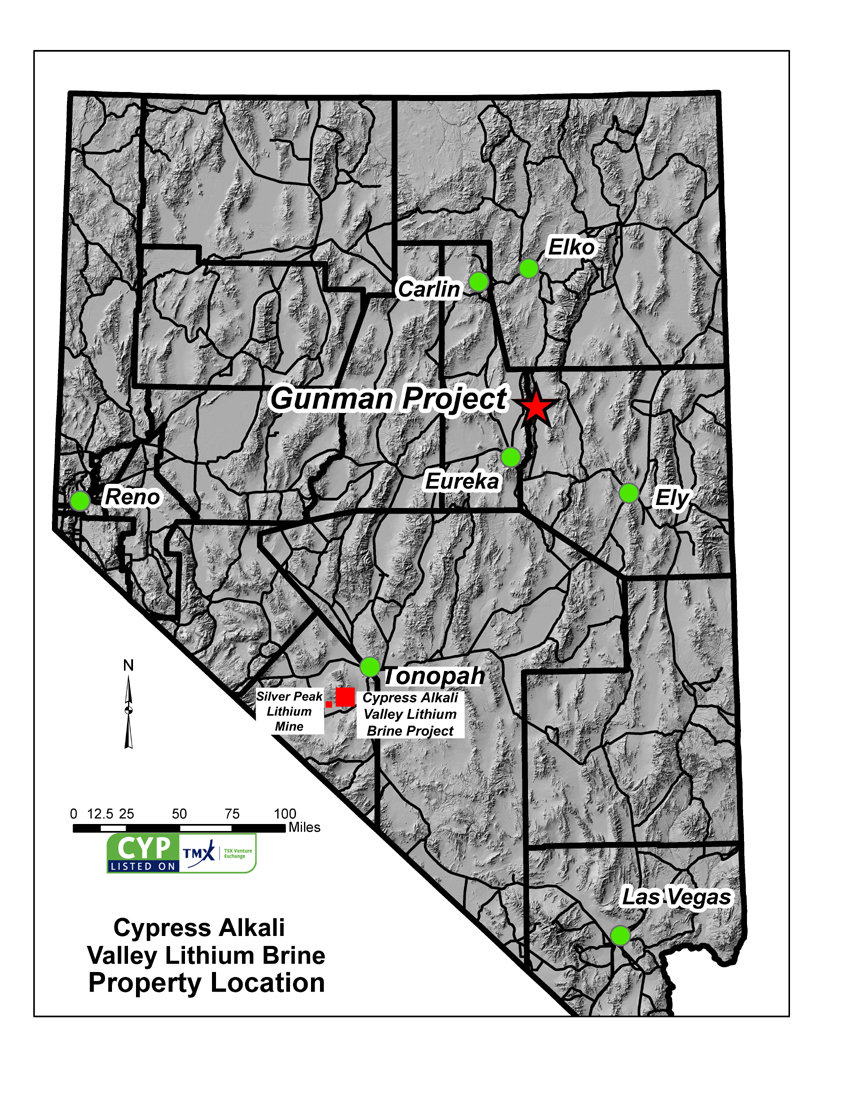 Cypress' Alkali Valley (AV) lithium brine project covers the central and northeast portions of the bottom of the Alkali Lake Playa and is contiguous with claims of the Dajin Resources Alkali Lake lithium project. The highly prospective Alkali Lake Playa lies approximately 12 kilometres northeast of Albemarle's Silver Peak lithium mine.

The Silver Peak lithium mine is the only operating brine based lithium mine in North America and nearby where Pure Energy recently identified a brine lithium resource. The Silver Peak area is one of the oldest mining areas in Nevada having produced substantial amounts of silver, gold and other minerals. The Silver Peak lithium mine began operations in 1967 to mine lithium by low cost evaporation ponds and has produced lithium since then.

The general area of Cypress' AV lithium brine project is surrounded by lithium-enriched Tertiary age rhyolite tuffs (peralkaline rhyolites) and lithium-bearing sediments as well as active geothermal systems. Over time, the lithium has become mobilized from these sources into surface and ground waters and can, under the right conditions, produce brines enriched in lithium. The potential for deep basin brines at Alkali has never been tested.

Tesla Motors is driving the current lithium boom in Nevada with the construction of a Gigafactory, a lithium-ion battery facility outside of Sparks Nevada. Market speculations of the likely construction of additional large-scale lithium battery factories in the region appears based on the potential of lithium batteries as all purposed energy storage units that are highly scalable.

Cypress Holdings (Nevada) Ltd., a wholly owned subsidiary of Cypress Development Corp., has acquired the 1,780 acre AV lithium brine project through the staking of 89 placer claims.

Robert Marvin, P.Geo., CPG, Exploration Manager for Cypress Development Corp. is the Qualified Person as defined by National Instrument 43-101 and has approved of the technical information in this release.

Cypress also announces a non-brokered private placement of up to 5,000,000 units at a price of $0.05 per unit ("Unit") to raise gross proceeds of up to $250,000. Each Unit will consists of one common share and one non-transferable share purchase warrant ("Warrant"), with each Warrant to entitle the holder to purchase one common share for a period of five years at a price of $0.055 per share from the closing date of the private placement.

A finder's fee of 7% in cash and 7% in non-transferable warrants (the "Finder's Warrants") may be paid in connection with part of this private placement. Each Finder's Warrant will entitle the finder to purchase a common share at a price of $0.055 per share for a period of five years from the closing date of the private placement.

The Company intends to utilize the proceeds of this private placement for exploration on its mineral properties and for general working capital purposes.

The private placement is subject to TSX Venture Exchange acceptance.

About Cypress Development Corp.:

Cypress Development Corp. is a diversified precious and base metals exploration and development company with projects in Red Lake, Ontario, Canada, and in Nevada, U.S.A.

Cypress Development Corp. has approx. 17.8 million shares issued and outstanding.

To find out more about Cypress Development Corp. (TSX-V: CYP), visit our website at www.cypressdevelopmentcorp.com.

CYPRESS DEVELOPMENT CORP.

"Don Huston"

DONALD C. HUSTON
President

For further information contact myself or:
Don Myers
Director
Cypress Development Corp.
Telephone: 604-687-3376
Toll Free: 800-567-8181
Facsimile: 604-687-3119
Email: info@cypressdevelopmentcorp.com
NEITHER THE TSX VENTURE EXCHANGE NOR ITS REGULATION SERVICES PROVIDER ACCEPTS RESPONSIBILITY FOR THE ADEQUACY OR ACCURACY OF THE CONTENT OF THIS NEWS RELEASE.
This release includes certain statements that may be deemed to be "forward-looking statements". All statements in this release, other than statements of historical facts, that address events or developments that management of the Company expects, are forward-looking statements. Although management believes the expectations expressed in such forward-looking statements are based on reasonable assumptions, such statements are not guarantees of future performance, and actual results or developments may differ materially from those in the forward-looking statements. The Company undertakes no obligation to update these forward-looking statements if management's beliefs, estimates or opinions, or other factors, should change. Factors that could cause actual results to differ materially from those in forward-looking statements, include market prices, exploration and development successes, continued availability of capital and financing, and general economic, market or business conditions. Please see the public filings of the Company at www.sedar.com for further information.